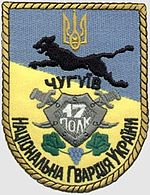 17th Regiment of National Guard of Ukraine (Ukrainian -- 17-й полк Національної гвардії України, slang (90s) -- Mitov rgt) -- M/U (Military Unit) 4117. 
Main information
Edit
Years of existence: ? -- 1999
Country(ies): USSR ('til 1991)
                 Ukraine (1991 -- 1999)
Subordination: DM USSR (Defence Ministry of Union of Soviet Socialistic Republics)
                    KGB USSR
                    NG Ukraine
Dislocation: MSSR (Moldavian Soviet Social Republic)
                Czechoslovakia
                USSR (Ukrainian Soviet Social Republic)
                Ukraine
Community content is available under
CC-BY-SA
unless otherwise noted.