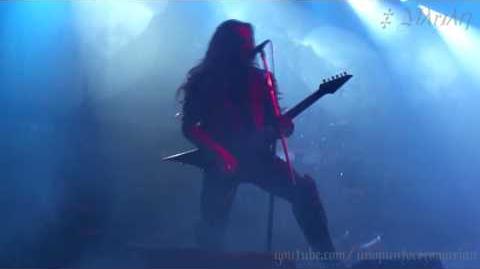 Olve Eikemo, better known with his stage names Abbath and Abbath Doom Occulta, is a Norwegian musician, permanent vocalist and founder of black metal group "I".
Main information
Edit
He was also one of the founders of death metal group "Old Funeral". In 1990 he left "Old Funeral" and founded "Immortal". Then, in 2006 he founded the group "I". The author of all their songs was Harald Nævdal.
Discography
Edit
Old FuneralEdit
The Fart That Should Not Be (1989, demo)
Abduction of Limbs (1990, demo)
Devoured Carcass (EP, 1991)
Join the Funeral Procession (Compilation, 1999) 
The Older Ones (Compilation, 1999) 
Grim Reaping Norway (Live album, 2002)
Immortal (1991, EP)
Diabolical Fullmoon Mysticism (1992)
Pure Holocaust (1993)
Battles in the North (1995)
Blizzard Beasts (1997)
At the Heart of Winter (1999)
Damned in Black (2000)
Sons of Northern Darkness (2002)
All Shall Fall (2009)
Between Two Worlds (2006)
Community content is available under
CC-BY-SA
unless otherwise noted.