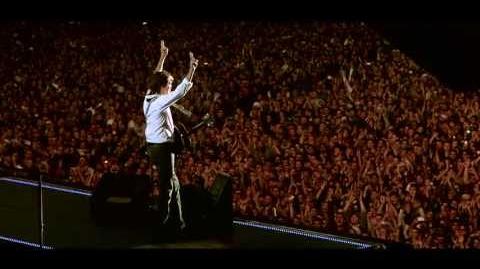 Paul McCartney, full name -- Sir James Paul McCartney, is a British musician, singer, composer, multi-instrumentalist and producer.
Main information
Edit
He was born at 18th of June 1942 in Liverpool, UK and still lives. He and John Lennon are founders of The Beatles. The duo Lennon-McCartney is consists of him and John Lennon. This duo is also became one of most affecting duos in music history. Once he took drugs, I don't know which ones, but maybe LSD or something. His genres are rock, pop, hard-rock, art-rock, psychedelic rock, pop-rock and classic music. His instruments are bass-guitar, guitar, keyboards, drums, mandolin, ukulele (or hawaii guitar), double bass, recorder, melodica, cello, violin, sitar, and trumpet. He was in groups The Beatles, The Quarrymen, Wings and The Fireman. He cooperated with Michael Jackson and other stars. His father James McCartney was pianist and trumpeter, but died from pneumonia. His mother, Mary McCartney was midwife and a nurse, but died from breast cancer. They married at 15th of April 1941. His young brother, Peter Michael McCartney, is still alive, as well as Paul, and also is a singer and musician. His stepmother (he has a stepmother because his real mother died), Angela Williams has a daughter, stepsister of Paul McCartney, Ruth McCartney. She was a singer.
Rumors about death
Edit
There is a legend that Paul McCartney died. He died in 1996 and was changed by Doppelganger. Many would say, that it is his brother twin, if they knew that Paul McCartney didn't have any brothers. Well, it's just a rumor. It's false FOR ME. If you want, believe it, if you don't, then, don't believe.
Community content is available under
CC-BY-SA
unless otherwise noted.